So, alot of people even amongs the animators of Madness WhiteHank have been asking me (and kRyy prob got asked the same), "HOW DID WHITEHANK STARTED ?"
To answer this in a simple way, here are all the essential elements to it :
---
1) THE NEXT-GENERATION COLLAB
It's the same way a normal collab would work, exept that i wanted a even closer kind of teamwork like it's been seen in some stick figure animations : Animating in the Same scene ! Whitehank collab was normally a mere Co-op Test for the Extile community, the reason it ended up being published is that i estimated there was enough work to be sent as a actual movie.

2) WHY A WHITE HANK ?
we just didn't fukin know what to animate, so i asked @Thece to make a White hank, and he did it ! this is based off a Madness combat 7 parody which included a reversed color hank.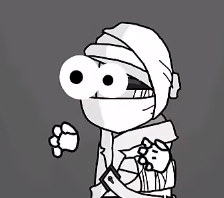 3) HOW IS PINK HANK THE ANTAGONIST ?
Kote was last in Whitehank 1, and did additional scenes to it, he asked me for the ending and we had a short discussion about it.

4) WHY MAKING A SEQUEL ?
Dunno, but it's probably the fact kRyy is retarded for storyboarding and somewhat feels at ease animating stuffs that was already set, Whitehank was from the beginning a troll project, designed for trollers.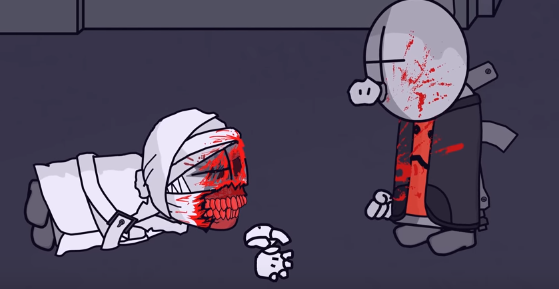 ---
As you can see, There is absolutely no purpose in knowing in details what Whitehank is, the main reason it went exceptionally decent was that series, took few madness animators joining in that was approved, and getting even better from being influenced each others, We shared creations and test and we get inspired (or angry) at them. We no longer wished Brainless actions that had no logic at all (we still don't have much logic but i believe it has been somewhat worked on lol)
Extile is a cool dictatorship madness community, Which i shamelessly set up contents that should have never been ever made as a animator : "RANKS"
No one really told me about this, but why would i claim that i was doing the wrong thing ? Pretty simple, Madness is owned by Krinkels, from imposing a Ranking, That's mean the Extile Community is the one deciding what's right and wrong in whatever creations you do with the Style. 
Truth be told, i just made Extile to apply my ideals, i didn't used to mind the 0 IQ Agents staying on the scene until they get shot because i also had 0 IQ back then, but nowadays it has been something i was awfully upset about, even more when some Animators was making agents shooting to the Protagonist but still fucking miss him because it's the protagonist so he can't get fucking injured for the moment, STOP MAKING -50 IQ AGENTS, THANKS.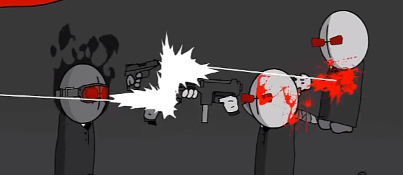 I didn't wanted to say it out loud cause it was supposed to be obvious, but Krinkels's agents are a O.K, they aren't forcely dumb, the protagonist is usually just too fast for the agent to react against them, back then, Animators would make slow walking and slow movements, etc... and that's one of the main reason why old collabs would be nowadays just retarded relics.
---
anyways guys xd i know im kidna rude but uhhhh.... extile is a good influence, lol, we are always right, you know, and uhh, we cool too, and all that stuff, we influence the community of madens too......... git gud, y'kno.